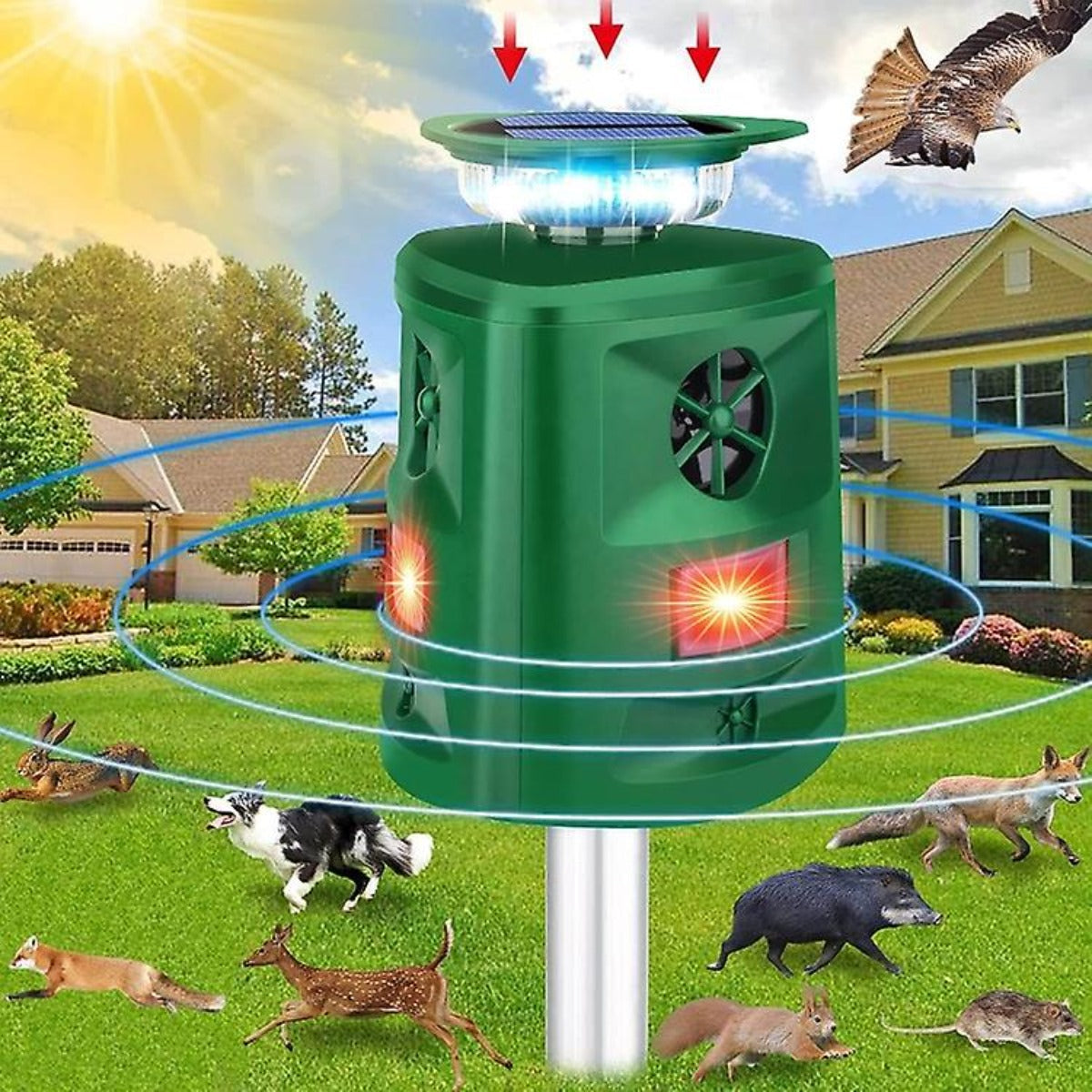 Phonery GardenShield ® Solar Ultrasonic Repeller
Great product, does its job.
This outdoor animal repellent is very powerful! I'm very satisfied! I put a camera to see if the outdoor animal repellent actually works, and I got some videos where animals came to my garden but were scared away by the ultrasound and the light. I really like it that I actually see the result. I noticed that the animals got scared. In about a week, they almost stopped coming at all because they were getting scared. I also move the outdoor animal repellent around the garden so no matter where they come from, they will be scared away.
Works Well!!!!
Bought for a rat problem. Which in just one week the activity was decreased by a lot. Bought second one to cover the back of the home for more coverage
Keeps animals away
This has been working good. It has kept deer and armadillo away from my garden
Bye-Bye Annoying animal,Great Work!!!!
We have been having cat problems on and off for about two years.Before I have tried all the chemical solutions ,Temporary reduction,then the animal would be back with a vengeance.
I am Recommend by a neighbor who had also purchased,I purchased and installed the Ultrasonic Animal Repellent Outdoor,Because I'm buying this product for the Ultrasonic Animal Repellent Outdoor first time,so followed the clear directions for installation,I found the install is so easy,Suitable for beginners Friendly. I record one effect each day,hhhhh,The cat activity averaged 5/ day the first week of Repeller installation, 1/ day the second week, and then 0/day the third week,I feel the animal deterrent devices outdoor are a lifesaver for me!
So far, I'm very happy with the installation,durability and performance of these repellers,Ultrasonic pest repeller outdoor are so much easier to use with much less mess than traps, sprays,and granulars. Time will tell if these ultrasonic pest repeller outdoor really work by keep the burrowing critters away during the nice weather.Would highly recommend!!! I will purchased the animal deterrent devices outdoor again,Because I have a big yard,I need more of Ultrasonic Animal Repellent Outdoor to keep my garden and yard
Works great! The deer stopped eating my plants
Great product for the price. The deer were eating my plants daily and I tried using soap etc etc etc... to keep them away and nothing worked until I placed this near the plants. They have not eaten the plants since! Highly recommend
Back to the top