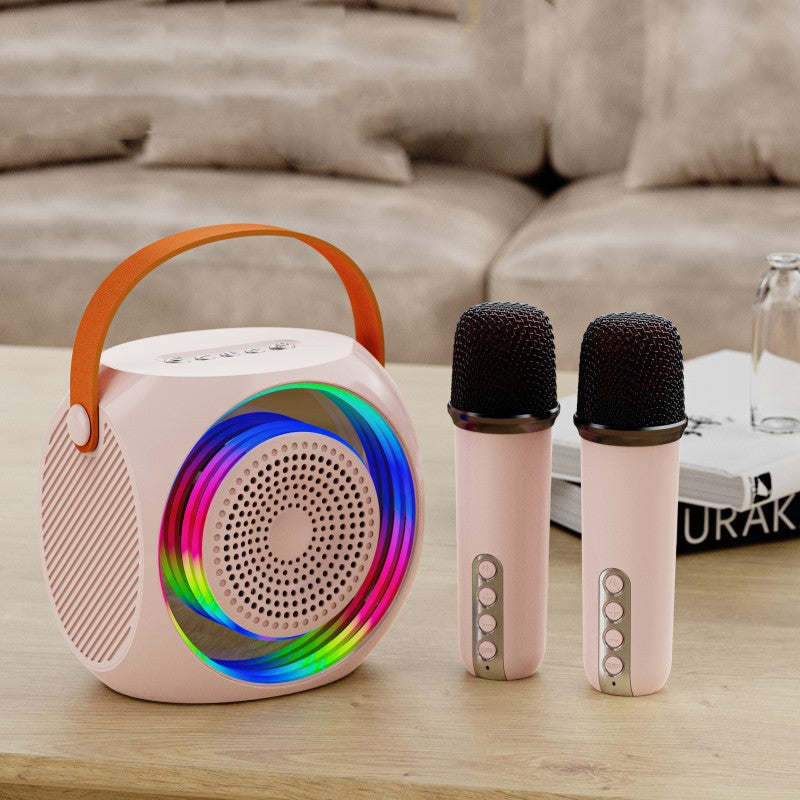 Phonery Voicr ® Kids Karaoke Machine
Exactly as described- fun little portable karaoke machine with fun lights!
This little karaoke machine is a blast to use! It's super lightweight and easy to transport. It fit in my suitcase without an issue and provided hours of enjoyment.
The sound quality is good for such a small device. The led lights are fun and encouraged some dancing!!
Any added bonus that I didn't realize was going to be such a hit was the special voice effects that we could do with this- it was fun for us to play with from ages 2 to 67. This can also serve well as just a speaker. We tried it out while calling bingo numbers, so everyone could hear more easily. What a blast!
If you're looking for a fun time, this little item might be exactly what you're looking for!
SO. MUCH. FUN.
I got this for my kids but before giving it to them I had to test it. I connected it to my phone, phone a great karaoke video on YT and ended up going to town for the next half hour (straight out of the box, hadn't even charged it). It connected very easily to my Samsung S23 with no issues at all.
The unit comes with two mics as well as the speaker. The mics connected automatically with no additional steps. It's easy to adjust the speaker light and volume functions. The little microphones are very light weight and have their own volume controls as well as giving you the ability to adjust your vocal setting. I liked the original setting just fine. It's not the best ever audio quality but very on par for larger karaoke systems and quite impressive for such a little box! The KTV setting gives you an echo-y reverb sound, so you sound a bit more produced. The monster setting is fun and basically pitches your voice down into a bass register and the lovely voice makes you sound like a chipmunk or talking squirrel. They are all fun to use.
As I said, I got this for my kids to use but I may keep it for myself lol!! Also after giving it a try I figured out that it also makes a great portable speaker for just speaking. There are times when I need to speak to a group and with this I can easily project my voice louder than I could on my own! This is a great little karaoke machine and I know it will provide hours of enjoyment for my whole family!
Great for kids
I got this as a gift for my kids and they love it. It's loud and has a long lasting battery. The front lights up which is nice.
Not only a toy
Small but powerful little machine. The microphone and speakers are very clear and loud, the quality doesn't look like a toy though the design is more for younger generation. Once you turn it on, it will become bluetooth mode automatically and connecting is fast and easy.
It can used a speaker too but notice even the volume is set to the lowest, it is still loud. I guess because it is a Karaoke machine
Sound effects is cool. I like it speaks out instructions like "power off" "Bluetooth connected". It will be easy for younger kids knowing what's going on.
Amazing Sound Quality
The sound quality on this karaoke machine is amazing - especially for it's size - a little less than 5 inches. I love that it's small and compact, makes it very easy to take with you. The actual product dimensions are listed on the third page of the product listing. It is lightweight for any age to carry. I love that it also has a handle for carrying.
Back to the top