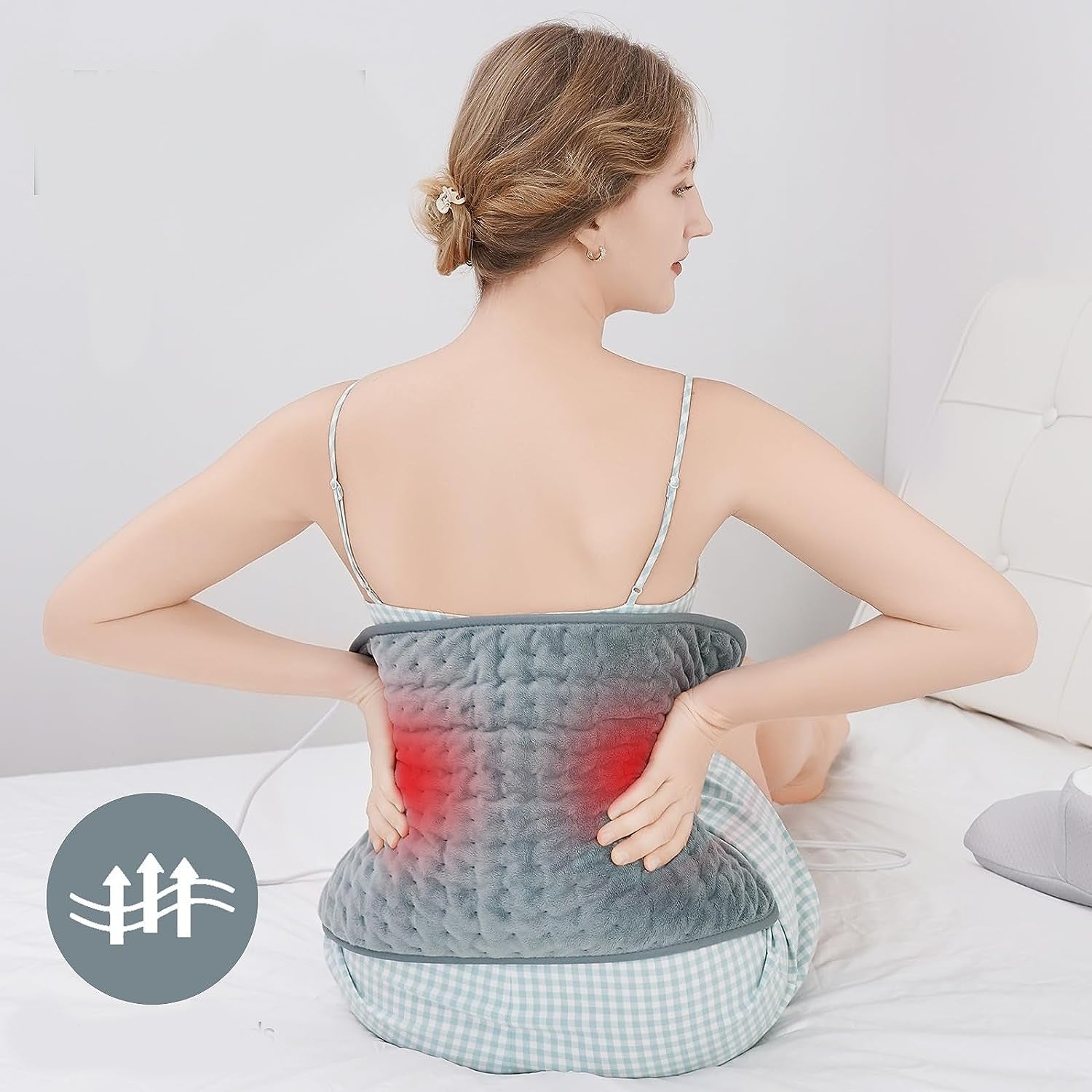 Phonery HeatRelief ® Heating Pad for Back Pain Relief
Excellent heating Pad
As someone who frequently experiences muscle tension and discomfort, I decided to invest in a Heating Pad to provide some relief. After using it for several weeks, I can confidently say that it has been a valuable addition to my self-care routine.
Pleasantly surprised!
I've owned my fair share of heating pads over the years and they all seem to heat up fairly slowly and then die sooner than I think they should, so I've gotten used to buying a new pad every year or so and I typically try a new brand each time to see what's out there.
This heating pad is noticeably lighter weight and thinner than others I've owned but super soft! Easy to lay on or place under a blanket without being awkward and lumpy. The box says it heats up in seconds, but I figured that was just marketing mumbo jumbo so I plugged it in, cranked it up to the max (6 out of 6 heat settings) and left the room for a minute . I came back not really expecting any change in temp yet and I was honestly surprised with how quickly the pad heated up! I'm not sure it hit the 149F claimed temp, but I don't really have a way to test that so I guess I can't refute it...all I know is that the pad heats up MUCH quicker and feels like it gets hotter than the various other heating pads I've owned in the past (maybe because it's thinner?). I would wager it actually gets hot enough to help with pain relief and expedite healing. Real heat! The various temp settings and timers are a must have for a pad like this, so everything you need is there. Lifespan is TBD, but if/when it heats its last hot (we use these a LOT), I'll be buying this one again for sure!
My only complaint is that I find myself having to wait for my turn to use it...because the wife and pets keep hogging it - everybody loves it!
effective in providing relief
The heating pad has been really effective in providing relief without the need for painkillers. It delivers deep, penetrating heat that has helped me with various issues like back pain, period cramps, and joint aches. The range of conditions it can address, from arthritis to sciatica, is impressive.
Quick heating pad
This is one of the go to heating pad of my wife. It reaches the temperature set very quickly and is uniform. Its of good size and you can be used as moist therapy which shows that this is well made to handle the moisture without ruining the pad. The heat goes all the way to level 6 and thats hot. My wife uses it around level 3 and thats a tolerable heat to relieve the pain. The pad remote has a timer that you can set upto 4 hrs and it auto shuts off. Another good feature is that it has a overheating auto shutoff feature which I think would be for when using at Level 6 as it reaches 149F which I feel is a good feature to have if in case used at that temp to avoid burning. You can also wash it without any issue to the pad which I think is a good feature to have as you can wash off the smell when you use it along with ointments to relieve the pain. I would recommend if you are in the market for the heating pad.
Back to the top