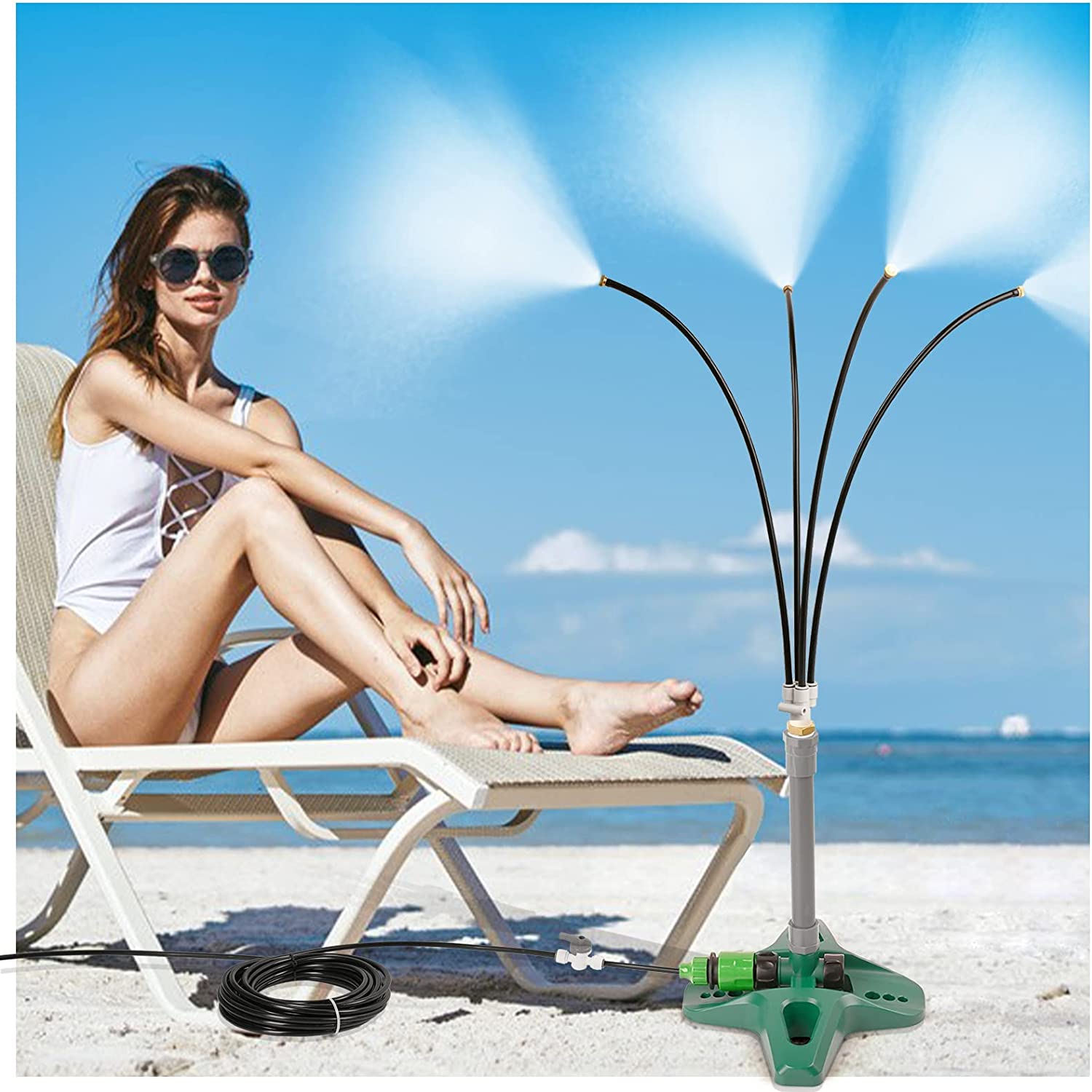 Phonery Misty ® Water Misting System
Hot Weather Friend
It went from cold weather to hot here recently so we anticipate using this mister loads this summer! It's a great value and easy to put together & easy to use. Best thing about this is its portability because we didn't want to install an entire system and with this one we can move it to where we want to pretty easily. Hoping it will keep mosquitos and flies away, too (that would be GREAT). Adjustable spray and also adjustable height is a big plus, too.
Easy to assemble and use, works surprisingly well
I live in metro Phoenix where it gets HOT over the summer and misters are one of the only ways to keep the patio cool. I was skeptical of this one--I doubted it could put out enough water to really make a difference. I was proven wrong! It's not too hot yet so I can't test it in the 110+ temps, but it definitely puts out a good amount of water. It was easy to assemble and to hook up to the hose. You could also easily put a few of these together to cool a decent-sized space.
Really like this mister! Easy to get up and running
This is going to sit on my dock this summer to provide some extra needed cooling from the Texas heat.
It's ok
This was simple to put together and the arms are bendable. Then I realized you could turn the ends to adjust the spray. It took a little bit to get it where I wanted it but it worked. It's a little short which I wish it was taller but it's still nice to have on the patio
Enjoyable cooling mist for your patio
This Portable Standing Misting System is an excellent addition to any outdoor space. This mister is designed for use on outside patios, making it perfect for keeping pets and kids cool while they play outdoors. The system has an upgraded height feature that allows you to switch the height between 18in and 27in at your need, providing better mist coverage. The upgraded mist nozzles ensure a comfortable misting experience by providing improved spray and leak-proof performance.
This standing misting system is also incredibly versatile. It comes with 4 Shape-memory tubing,40 cm length each one, which allows the system to stand by itself, and the maximum height of the water stand is 19.6". With the 26.2FT tube, you can use it in a variety of outdoor settings, such as patios and decks.
The system has a universal 3/4-inch connector, which means it can be used anywhere there is a standard 3/4-inch outdoor garden hose. It effectively cools the surrounding air temperatures by about 20° F, making it perfect for hot summer days. However, before use, it is recommended to wind the garden faucet in Teflon tape to increase the seal away from the leak.
One of the best things about this pool mister is how easy it is to set up. Just follow the manual to screw the standing mister tubing on the base and then connect your garden hose. There is no power consumption, no energy consumption, saving you more money, and making you an environmentalist. The package includes everything you need, such as 1x8m Misting Line, 1xStand Base, 1x Extension Pipe, 1 set Standing Tubing, 1xWrench, 1xTeflon tape, 2xSpare Brass Nozzles for Replaced, 1 x Water switch, and 1x Manu.
In summary, this Portable Standing Misting System is an excellent investment for anyone who wants to upgrade their outdoor experience. It is versatile, easy to set up, and provides comfortable misting. If you're looking for a pool mister, this one is definitely worth considering!
Back to the top