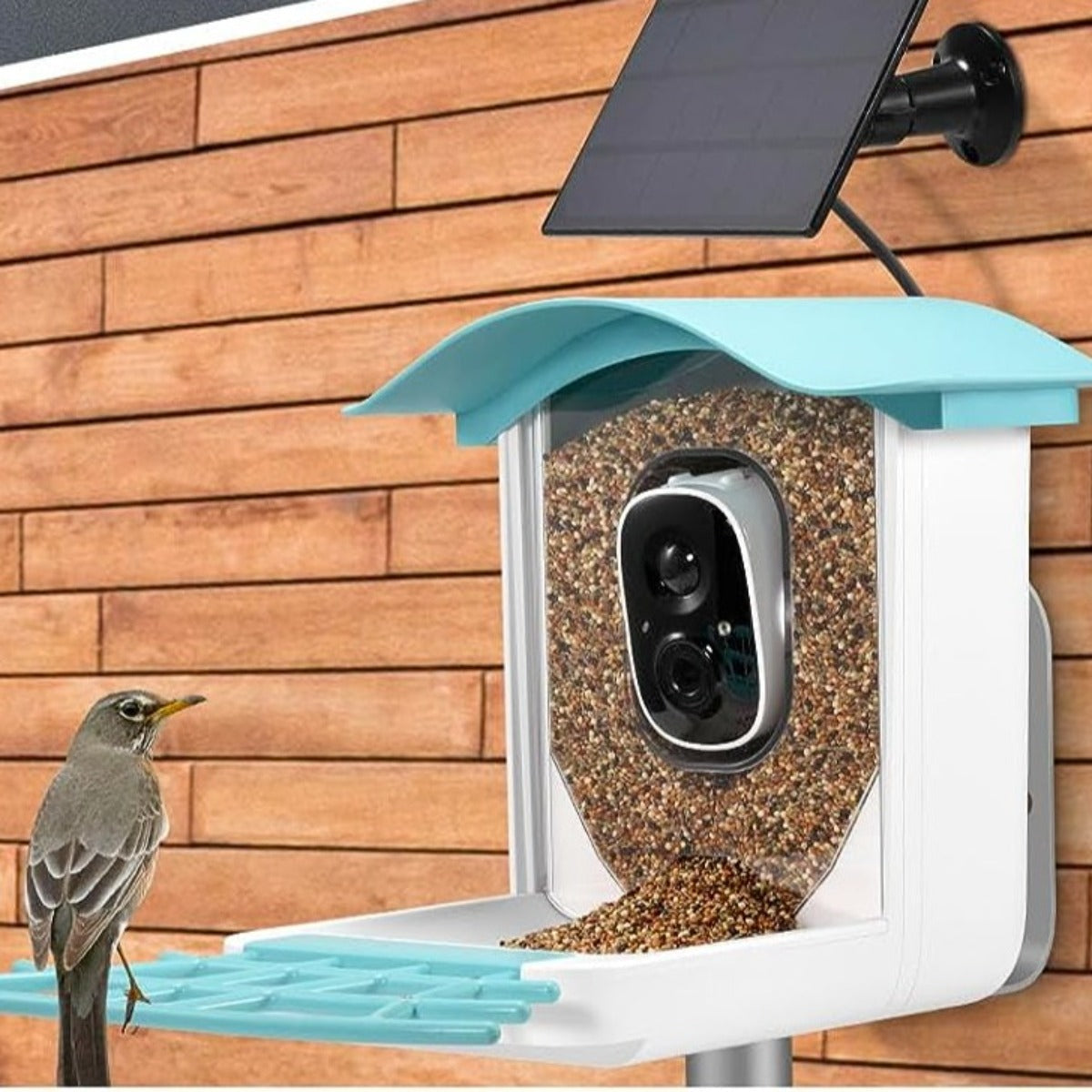 Phonery BirdieView ® Bird Feeder with Camera
easy to connect, works well
This is a cool way to get to know the wildlife in your area. Great for teaching kids about birds and animals.
It's everything it promised
I wasn't sure this feeder cam would actually work the way it was described, but it does. It was a little intimidating at first seeing all the parts, but there are so many because there are multiple ways of mounting the feeder: on a wall, pole or tree. I actually mounted ours on an old wooden swing because the tree was too far for the wifi to reach. The swing is about 10 feet from the house and our wifi router is 30 feet inside that edge of the house, so I'm glad that the wifi reaches even that far. The app is easy to install and I did not opt for the subscription because I don't need help identifying birds. The instruction book is well illustrated and very clear. It was not hard setting up the feeder, even on something (a swing) not mentioned in the book. I wanted the feeder primarily for getting cute pictures of our backyard squirrels, and I couldn't be happier. It didn't take long for the first squirrel to find the feeder, and I am impressed by the clarity both of picture and sound. The feeder is very solidly made of good, strong materials and holds up easily to the weight of a squirrel. I can see the cute faces of my squirrels and hear them munch away on the birdseed and nuts, all while preparing our own dinner in my kitchen. I am loving this. I have not yet had a bird visit, but that's probably because the squirrels are keeping them at bay. If I don't refill my other feeders, I think I will be more likely to attract birds as well as squirrels. I was a little put off at first because when there is no motion, the camera disconnects and I wanted to keep looking for birds and squirrels, but it will connect when there is motion and it saves the video clip so you can go back and watch it later. It is also easy, once you figure out how to do it, to delete multiple clips at once so you don't fill up the mini SD card (not included, but well worth having). You can subscribe to cloud storage, but I'd rather just delete unwanted files and download the ones I want to save. I love this backyard camera. It's exactly as described and so much fun to be right up high with the creatures in our yard.
So cool!
I am so impressed with this bird feeder! The camera really lets us get a great close-up look of the birds that visit that we would otherwise not be able to see from a distance. This bird feeder creates videos that we can review so it lets us see anything we would miss and the auto capture camera video is spectacular! I love that there is also a built-in ant moat to help keep the seed clean and the solar power feature lets us keep it charged effortlessly so we do not miss anything. Great value and very giftable for bird lovers!
Highly recommended!
I think this bird watching, camera bird feeder is a must for all backyard bird enthusiasts. I knew we had birds eating out of our feeder from time to time, but I didn't know to what extent or of what variety.
We have had so much fun watching the cardinals, blue jays, chickadees, indigo buntings, finches, grossbeaks and more that have come to our feeder.
To see them up close, the shape of their beaks, the color and pattern of their feathers, how they eat and interact with each other has been fun. You get to recognize them as the same ones come back time and again. Because this has sound, you can even hear them pecking at the plastic floor of the feeder trying to pick up the seed, chirping as they're sitting on the perch, and their wings beating as they fly away.
This camera also has a pretty wide span so I can see off to the sides of the perch as well and notice when my parents are taking a look at my tomato plants as they roll through my back yard on their golf cart.
When we're gone, we're still able to monitor our backyard for intruders or critters like the raccoon and deer it catches with its motion detection.
After showing my sister-in-law the high definition, color pictures and video from my feeder she loved it so much that my brother-in-law ordered one to surprise her. I also have one in the front yard.
These aren't cheap, but the enjoyment we have got out of it makes it worth every penny!
Works great, but probably not attached to a tree
This bird feeder is a great idea and well-executed except for one thing - it's a solar-power camera designed to attach to a tree, but guess what trees have lots of? Shade! So the solar panel (which has an 8' cord) needs to be installed somewhere else and then you will need to run the cord across to the bird feeder. That really is not feasible, so you really have to install this on something that stands out in the sun, such as a pole or the side of the house where the eaves won't block the sun.
Back to the top